Purchasing a virtual address is a commitment. At least it feels that way because changing that address – particularly for small businesses – can be cumbersome.
For this reason, it's all the more important to make an informed decision, and in this blog post, we will share a series of questions you can use to evaluate what is best for your business.
From mail volume to address location, the answers to these questions will give you critical insight into not only which features you need in a virtual address but also which company can provide it for you.
Here are four essential questions to ask before securing a virtual address for your business:
1- What volume of mail does the business usually receive in a month?
Understanding your business' mail volume can easily save you hundreds of dollars per year. Miscalculating it can also cost your business hundreds of dollars per year.
Every virtual mailbox service offers a plan based on how many pieces of mail you expect to receive and scan every month. For example, PostScan Mail offers a Starter plan that includes 30 items per month, with each additional item charged at $2 per envelope.
If you anticipate possibly receiving a larger volume of mail (and let's face it – most businesses do!), it would be much better to start with the Standard or Premium plans. Take a look at your past month of mail to understand which plans work best for your business needs.
Pro Tip: Consider any potential growth in mail volume. If you're a budding enterprise, your postal mail might increase as your business expands. It's always good to think long-term and choose a service that can cater to your business's growing needs.
Read More About Virtual Addresses and the Future of Work: Trends and Predictions
2- Does the virtual address location fit the image and brand of my business?
A virtual address isn't just a place to receive mail—it's also a reflection of your company and the brand equity you've built.
Having an address in a business district or office park can elevate your company's image over something like an independent mail center or coworking space. When people look up your address on Google Maps, what will they find? Will that be a positive reflection on your company?
This is one of many important virtual address features that need to be taken into account during the research process.
Pro Tip: Think about your target audience and how they perceive your brand. Your virtual address should resonate with their expectations and the image you want to portray.
3- Is this address owned and operated by the virtual address company or a third party?
A virtual address is a physical location that can receive mail on your behalf, and that location is either owned and operated by the virtual address provider or subcontracted to an independent mail center.
A location that is directly owned by the virtual mailbox company is known as a primary hub address, and for business purposes, they offer some very distinct advantages:
Better Quality Control and Customer Support
With a primary hub, a company can secure the location and limit access only to authorized employees.
This direct control translates into better services, more streamlined processes, and in most cases, better customer support since there's no middleman between you and your address location.
Higher Security Measures
Primary hub locations are often dedicated office spaces. Your mail gets handled by vetted employees behind locked doors and under video surveillance.
Security and privacy are the highest priority When dealing with sensitive company communications and confidential documents. The biggest question is whether a primary hub address exists in the state where your business is registered.
Pro Tip: Most virtual address companies don't explicitly state whether they own the addresses they offer to customers. You might need to contact sales support to find out.
4- Do they offer shipping quotes, and what are their rates? 
Every virtual mailbox provider will claim to offer a choice of shipping carriers when you need to forward mail or packages to a different location. Whether that's the US Postal Service, UPS, FedEx, or DHL, comparing shipping options is the best way to save money.
What they don't tell you is whether those shipping carriers are integrated into your online dashboard and offer shipping rates and options for your shipping address. 
Many providers will claim that they offer multiple shipping options, but their rates will vary widely, as discounted rates are only awarded to high-volume shippers.
Also, they are only sometimes able to provide exact shipping quotes, which results in you having to submit a manual request, only to be surprised by the cost after the shipment has been processed. This ends up being a waste of time and money. 
PostScan Mail, on the other hand, provides immediate real-time shipping quotes from all major carriers at discounted rates, allowing you to compare the best options for your particular needs.

Pro Tip: If you choose a virtual address location near your company headquarters, it's also worth checking whether the company allows in-person pickup.
Choosing the Right Virtual Mailbox
A virtual address offers myriad benefits, from elevating your brand's image to convenience. However, as with all strategic business decisions, it requires research and evaluation of your business needs.
By asking these four questions and seeking clarity on each aspect, you can ensure that the virtual address you decide aligns seamlessly with your business's goals and operational needs.
Remember, the key is to balance the practicality of the service and the image it portrays for your business. Modern mail management solutions can remove the hassle of physical mail in your office, but they require intentional thought and planning.
Access & Manage Your Postal Mail

Anywhere Anytime!

Receive mail anywhere, on any device.

We offer 600+ mailing addresses for both personal and business use.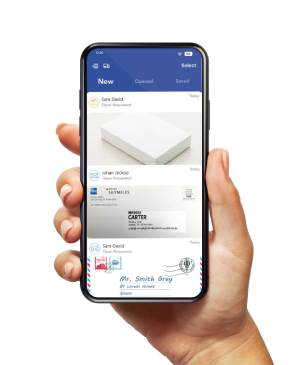 You Might Also Like: