If you used USPS package forwarded service and your USPS package was sent (forwarded) to the wrong address, and you're about the safety of your package. The first question that comes to your mind is how can I get my package? 
There are few cases where this issue will happen, and you'll be too overwhelmed to think of the best way to handle it without wasting time and energy. This article guides you through all you need to know about your USPS package forwarded to another address and how to get it back. 
Let's go!
Here is all you need to know about forwarded packages.
What Does USPS Package Forwarding Mean? 
USPS package forwarding is when your mail and packages are sent to another address other than your usual address. This mostly happens when you move or change your location temporarily. If you're moving to a new address, you'll have to apply for a USPS change of address to have your packages forwarded to your new address in the meantime. 
There are a few cases where this dilemma could happen and how to handle it in the most convenient way possible without wasting any more time or energy. Check info-graphic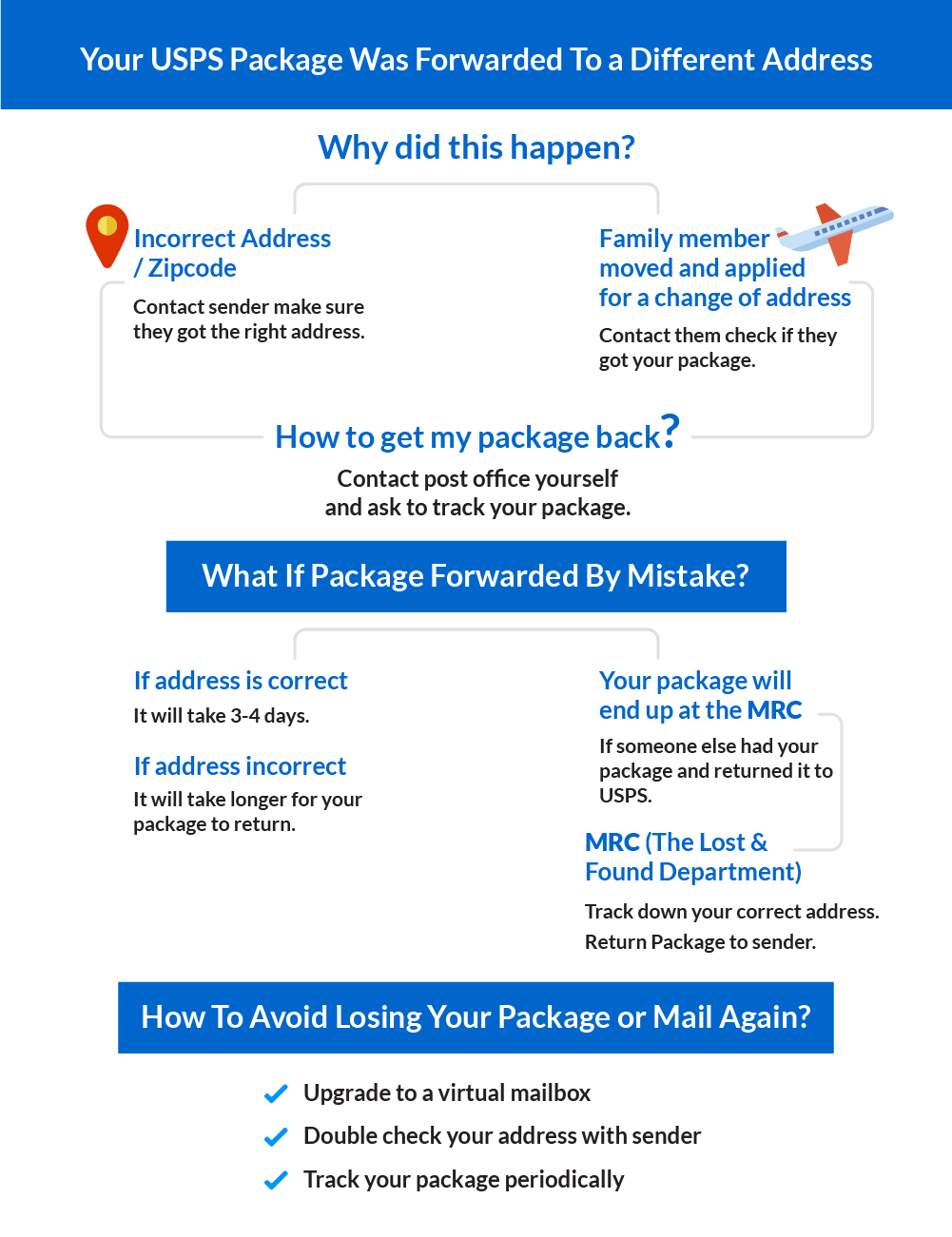 Why Was Your USPS Package Forwarded to Another Address?
There can be many reasons why USPS packages are delivered to the wrong address after your mail is forwarded to you. 
The most common reason for the wrong USPS package forwarded is inserting an incorrect Zip code. If your zip code isn't correct, the whole address will change. Also, changing one number from a zip code might have your packages delivered to another address. 
Another common cause of having your USPS address forwarded to another address is when a resident of your address recently moved out and accidentally changed their address alongside yours. 
Also, your sender might mistakenly forward your package to the wrong address. In all these cases, you won't be able to receive your package. 
What Should You Do if Your USPS Package is Forwarded to the Wrong Address?
If your USPS package is forwarded to the wrong address, there's no need to panic as there are simple ways to fix that. 
First, you'll have to contact USPS to check the delivery status of your package. For example, if they forwarded it to a previous resident's address, you could contact them to deliver the package back to you or take it to the post office. 
Your package will be placed in the Mail Recovery Center (MRC) for you to claim it. In some cases, USPS will take the package back to the sender. 
Secondly, if you got your USPS package forwarded to the wrong address, try contacting the sender or the post office. Your sender can try to recover the package by solving the issue with the Post office. 
Also, the person who received your package can decide to return the package to the mailman or the post office. If the person decides not to, you'll have to contact the sender about refunding or resending the package or opening a lost package case in a post office. 
The post office can decide to charge you or not, depending on the insurance on your package. You may have to bear the shipping fees and the charge of the product too. 
A single wrong digit in a postal code or a suite number can change your address. Therefore, you must be very careful when giving out your address. 
What if the package was forwarded by mistake?
If you've not applied for a USPS mail forwarding, but your package was forwarded to another address, and your address and zip code are correct, you're likely to get your mail within 3 to 4 working days. 
However, if your zip code or address is incorrect, you'll have to wait for a longer time.
Here, you'll have to wait for the person that received your package to contact USPS and taking the package to the Post office. Then it will be placed in the Mail Recovery Center (MRC) of the Lost and Found Department of the Post office. 
They'll try to track down your correct address and send your package. If they're unable to do so, they'll send it back to your sender. 
If your package is insured, your sender will be able to send it back to you without excess cost; you'll only pay for shipping costs. However, if the package isn't insured, you'll have to bear the cost of the product and the shipping fee.
Read more How to Find USPS Lost Package or Mail
How Can You Track A Forwarded Package? 
When you send or order a package, you'll be provided with a tracking number. So even if you applied for a USPS package forwarded, your tracking number would be the same. 
Most major courier companies like DHL  and USPS allow you to track your packages. Let's see how to use USPS for tracking forwarded Packages
USPS tracking forwarded service is online. You'll be provided with a tracking ID that typically starts with 1Z. 
Once you open the USPS tracking Portal, you'll be required to enter your tracking number. Then, you'll be shown the status of your package and other essential information from there. 
Tracking your forwarded packages can help you know where your package is currently and delivery options.
How to Avoid Having Your USPS Forwarded Package Sent to the Wrong Address
Upgrade to a virtual mailbox using a mailbox provider like Postscan to avoid having your USPS forwarded packages lost and also to have control over your mails where ever you're

Always double check your address before sharing it with your sender

Make sure all your packages are insured to avoid paying excess fees when your USPS package is delivered to the wrong address

If you're a businessman and you travel a lot, consider using

PostScan Mail Package Forwarding Service

to avoid losing your packages
Bottom Line
Buy a private mailbox with a Commercial Mail Receiving Agency (CMRA) like Postscan Mail to fully control your mail. With a private mailbox, you can choose to scan, forward, or recycle your mail from the comfort of your room.
You don't have to worry about USPS packages being forwarded to the wrong address or getting damaged. Instead, go virtual with your PostScan Virtual Mailbox.