In today's digital era, ex-pats, digital nomads, and businesses are all looking for an intuitive and easier way to manage postal mail due to snail mail not meeting their needs. This is where a virtual mailbox becomes handy.
What is a Virtual Mailbox?
A virtual mailbox is a digital mailbox that you can access online through your computer or mobile device to view and manage your postal mail.
All of this is done without needing to deal with paper mail or walking to your physical mailbox. Virtual Mailboxes have many benefits that include mail scanning so you can be on top of your mail when traveling, mail shredding for extra security, mail and package storage, and mail forwarding.
However, with virtual services gaining popularity, there is an endless list of virtual mailbox providers. We've researched and compiled a list of the top 10 virtual mailbox service providers, with everything you need to know about their features, pros, cons, and pricing. Check out the section below to find your virtual mailbox!

 How Does Virtual Mailbox Work?
Step 1: Get Your Mailing Address
Your mailing address can be a PO Box or an actual street address with a physical mailbox. For example, PostScan Mail has over 400 real street addresses nationwide that you can use as your mailing address.
This address can be used for personal or business mail, and some providers even allow you to use this address as your business address to boost your professional image. Your mail is actually at a secure mail facility, without you needing to sign for it or receive it yourself.
Step 2: Incoming Mail is Scanned & Uploaded Online
The envelope or label of the package is scanned and uploaded to your digital mailbox. You can log into your mailbox anywhere worldwide, needing only an internet connection. Most virtual mailbox providers have mobile apps to manage your mail in a few minutes easily.
Step 3: Open, Forward, Archive, or Delete Mail
Once you have looked over the scanned mail item, you can send handling requests on what you'd like the company to do next. You can have a mail item opened, shredded, recycled, forwarded, archived, or even physically stored.
Read More About Do You Have A Virtual Mailbox? Here is Why You Need One
What are the top 10 Virtual Mailbox Service Providers in 2024?
PostScan Mail
PostScan Mail is a leading virtual mailbox provider with over 400 locations nationwide and internationally. Mail is accepted from all mail carriers, including USPS, UPS, and FedEx.
The starter plan costs $10 monthly and includes up to 30 incoming mail items. The standard plan starts at $20 per month and includes 60 incoming mail items, while the premium plan costs $30 per month and includes unlimited incoming mail.
Whether you're looking for a professional business address in NYC or California or a registered agent service, PostScan Mail has an address for you. There is also an Apple and Google Play app available for mobile users. Other mailbox features include advanced mail security and mail forwarding to any domestic or international address, at discounted shipping rates.
Features:
Unlimited shredding & recycling
Unlimited online storage space for opened & scanned mail items
Local mail & package pickup if needed
Automated filters allow for quick mail sorting and organizing
Free package storage for 7 days and mail storage for 30 days
Try risk-free with a 30 Day Money Back Guarantee
Earth Class Mail
Earth Class Mail is rather popular with large and small businesses. They offer basic features to view, open & scan, search, forward, delete, or download mail items through your mailbox.
A Personal Mailbox starts at $19/month, a shared Mailbox costs $29/month, and a Premium Mailbox starts at $79/month. Every mailbox allows for 50 incoming mail items per month, and many of their addresses are PO Box addresses, not street addresses.
Features:
Easy integration with Dropbox, Google Drive, QuickBooks, Bill.com, and more
Numerous mail recipients
Free physical mail storage for 30 days
Unlimited online storage for open mail items
Only US addresses, no international addresses available
CheckStream Deposit Service, where checks that come through the mail can be cashed out
Anytime Mailbox
Anytime Mailbox offers affordable plans, but their service costs can be costly. For example, some of their street addresses start at only $7.99, but the scanning price per page is $0.99 (no free scans included), so if you get a lot of mail that needs to be opened, the cost can quickly go up.
Location prices vary from $7.99 to $69.99, with three tiers per location: bronze starts at $7.99, silver starts at $12.99, and gold costs $29.99.
Anytime Mailbox has numerous international real street addresses, including many in the United States and Canada. They also have an iOS and Android app for mobile users to access mail.
Features:
International address in Europe, Asia, Canada, etc.
Check deposit service available in some locations
Only 3 days of free physical mail storage
Unlimited online storage for open mail items
iPostal1
iPostal1 has one of the largest virtual mailbox networks in the world, with over 1000 real street addresses nationwide and internationally. The pricing changes depending on the address, but they offer four standard tiers per address.
The green plan starts at $9.99, the blue plan starts at $14.99, the silver plan starts at $24.99, and the gold plan starts at $39.99. Each plan includes mail deliveries from all carriers, mail scanning, mail forwarding, filtering, shredding, and more.
Additional fees may apply to these plans for mail scanning and forwarding. A virtual office plan is also available; it includes a professional business address, fax service, phone number, and receptionist.
Features:
Free 30-day storage for mail and 10 days for packages
All plans include up to 5 mail recipients
Only 4 GB of online storage for mail
Check deposit service
Traveling Mailbox
If you're a traveler looking for a mailing street address to use while you're away, Traveling Mailbox is a great option. It offers a limited number of street addresses nationwide, but every mailbox includes mail scanning, forwarding, filtering, and storage.
The price varies depending on the location, but the basic plan starts at $10/ month, which includes 40 incoming envelopes and up to 3 mail recipients. The extended plan is $25/ month, which includes 100 incoming envelopes and up to 5 recipients, and the business plan, which is ideal for medium-sized or large businesses, costs $55/ month and includes 200 incoming envelopes and 10 mailbox recipients.
Unfortunately, they only have a network of around 30 addresses, so if you're looking for a specific location or city, this may not be for you.
Features:
Easily integrates with Evernote, Bill.com, Google Drive, One Drive, and Dropbox
Unlimited online storage for opened mail
Free mail shredding & recycling
Check deposit service is available
US Global Mail
US Global Mail is another popular option for its affordability and good service but they only have one street address in Houston, Texas. If you're a traveler or digital nomad just looking for a mailing address, this might be a good choice.
However, this may not be the best option if you're looking for a professional business address or looking to expand. The personal basic plan, suitable for individuals, starts at $9.95, and the personal plus plan starts at $14.95. The business plan starts at $24.95 and includes adding more mail recipients and unlimited incoming mail items.
Features:
Free check deposit service
Unlimited exterior mail scans
Free 45 days of mail storage with the basic plan, 90 days with the plus plan, and 180 days with the business plan
Only one street address
Digital mail storage is free for 180 days only
USA2ME
USA2ME's most prominent selling point is its package forwarding service, which they are well known for among online shoppers, foreigners, businesses outside the United States, and travelers.
They offer a virtual mailbox with a location in Houston, Texas, to use for incoming packages. The mailbox also includes mail scanning, shredding & recycling, and archiving.
There is a setup fee of $23, and the basic plan is pay-as-you-go, so you only pay for the packages you receive and forward. Then, there is a $10 setup fee for the rest of the plans; the standard plan starts at $10, the premium plan starts at $35, and the ultimate plan starts at $60.
Unfortunately, USA2ME doesn't have many mailbox features available in the other options, like junk mail filtering or mail cloud storage, because they are mainly focused on package forwarding.
Features:
Free 30-day physical mail storage
Free package consolidation for lower shipping fees
Only one real street address
Physicaladdress.com
Physicaladdress.com is an affordable virtual mailbox provider with seven real street mailing addresses in the United States in major cities, including New York, Dallas, Orlando, Las Vegas, Atlanta, Laguna Beach, and Boise.
The addresses can be used for personal or business mail; the cheapest address is in Boise, Idaho, which starts at $7.98/ month, while the priciest address is in Wall Street, New York, which starts at $19.98/ month. The address plans include envelope scans, content scans, free shredding, and more.
Features:
Unlimited mail recipients
Multi-user admin console option
Unlimited mail cloud storage
Free local pickup
Virtual Post Mail
Virtual Post Mail is a good option for small businesses looking for professional addresses in Delaware, Nevada, and California. If you're looking for an address outside of these three states, you can check out the other options.
Their pricing plans are slightly more expensive than the other companies on this list but offer unlimited incoming mail items with most plans. The starter plan starts at $20/month, the plus plan starts at $35/month, the business plan starts at $60/month, and the premium plan starts at $90/month. Virtual Post Mail has no mobile app so this could be inconvenient.
Features:
Registered agent service
Unlimited mail cloud storage
Free 60-day physical storage space
Check deposit service
Mailbox Forwarding
Mailbox Forwarding is excellent for travelers and ex-pats; however, they only have three physical street addresses in Florida, Michigan, and California. The basic plan starts at $14.95/month, the professional plan starts at $24.95/month, and the premium plan starts at $49.95/month.
All of their plans include no setup fee, mail scanning, an unlimited number of recipients, secure mail shredding, and mail forwarding. Unfortunately, they don't have a mobile app, so you can only view your mail through the website.
Features:
Most plans include unlimited mail recipients
Free 30-day physical storage space
Check deposit service
Most plans include unlimited incoming mail items
This concludes our list of the top 10 virtual mailbox service providers! Whether you're a traveler or a business owner, thoroughly check out these options, and you're guaranteed to find one that suits your needs.
Access & Manage Your Postal Mail
Anywhere Anytime!
Receive mail anywhere, on any device.
We offer 600+ mailing addresses for both personal and business use.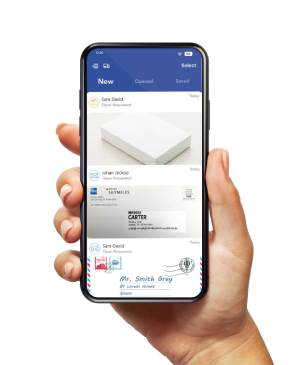 You Might Also Like: