After many years of looking to get a viable replacement for its current fleet of long-serving Grumman LLV mail trucks, the U.S. Postal Service finally announced on February 23, 2021, that it awarded a multi-billion 10-year contract to Oshkosh Defence (OSK.N) to manufacture a new generation of mail delivery vehicles dubbed "Next Generation Delivery Vehicles" (NGDVs)
The contract allows for the delivery of 50,000 to 165 000 NGDVs for ten years. The United States Postal Service plans to electrify only 10% of the NGDVs while the remaining whopping 90% will be internal combustion-powered.
USPS projected that the Oshkosh Defence's NGDV prototype unveiled will hit the roads in 2022.
This article will explore the specific ways in which the Next Generation Delivery Vehicle seeks to shape the future of USPS and address the shortcomings of its predecessor: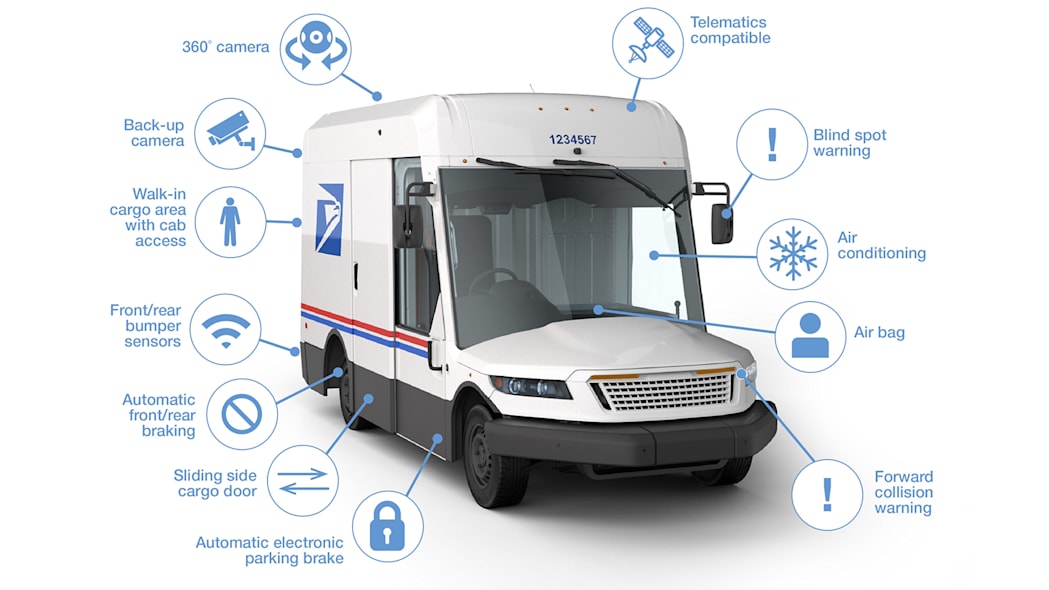 1. Fuel-efficient and Eco-friendly Vehicles
Oshkosh's New Generation Delivery Vehicle is designed to be a high-performance mail delivery van equipped with either a fuel-efficient, low-emission internal combustion engine or a battery-electric powertrain.
It will be a right-hand-drive vehicle with adequate outward visibility. In addition, it has the better interior volume and is tall enough for anyone to stand inside comfortably and work. The new mail van stands 9.5 feet tall and stretches 19.6 feet long.
2. Latest Automotive Safety Features
USPS's fleet modernization is a pointer to its solid commitment to ensuring the safety of both drivers and packages being shipped. The new vehicle will come with a 360-degree camera, airbags, automatic emergency braking, traction control, as well as front-and-rear collision avoidance systems.
3. Increased Cargo Capacity
Unlike its old predecessor, USPS Oshkosh Defence's vehicles will have more cargo space to accommodate higher package volumes resulting from the ever-growing world of e-commerce. The purpose-built vehicle is 7 feet wide.
4. Better Working Conditions
The purpose-built NGDVs will help create a more comfortable and positive atmosphere for the postal delivery workers. It will have better air conditioning and heating with improved ergonomics.
The new vehicle will also provide postal delivery workers with more efficient amenities to guarantee their safety and comfort as they move around to deliver mail and package forwarding to Americans.
5. Powerful Driver-Aid Features
The new USPS delivery vehicle will come with driver-aid features such as forward collision warning, blind-spot warning, telematics compatibility, and a backup camera. In addition, it has a large front windshield that offers drivers a much better view of what lies ahead of them- pedestrians, cyclists, or other cars.
This is an intelligent move geared towards the safety of both drivers and people outside the vehicle. For example, the driver can efficiently deliver packages to curbside mailboxes with its right-hand drive. In addition, there is a sliding side cargo door on the vehicle, so carriers won't always have to work or load through the back door.
6. Reduced Environmental Hazards
Switching from gas-guzzling, old Grumman LLV vans to Oshkosh fuel-efficient, low-emission internal combustion engine vehicles will help reduce air, climate, and noise pollution in communities across the U.S. while saving our climate future, protecting our lungs, and slashing fuel costs as well.
When the air conditioning is turned on, the vehicle will have a fuel efficiency of just 14 miles per gallon or 8.6 mpg.
7. New Generation Delivery Vehicles Are  Convertible to All-Engine Vehicles.
NGDVs are converted from fuel-efficient internal combustion models to all-electric versions. However, only 10% of the NGDVs manufactured by Oshkosh are expected to be all-electric.
Louis DeJoy, the U.S. Postmaster General, disclosed that to electrify 90% of the NGDV, the USPS would need an additional $3-4 billion, and it cannot afford that kind of money right now. Hence, an average NGDV mail-delivery truck spotted on the street runs on a fuel-efficient, low-emission internal combustion engine.
The first set of the NGDVs is expected to hit the carrier routes by 2023. The new generation delivery vehicles will replace and expand the current Grumman LLV vans, which have been in service for 30 years.
Conclusion
USPS' fleet modernization is geared towards replacing the gas-guzzling, long-serving Grumman postal delivery vans with more fuel-efficient and eco-friendlier NGDVs. Switching to low-emission, internal combustion-powered, or battery-electric mail delivery vehicles will reduce gas emissions and petrol costs and keep up with the ever-growing demands and challenges of mail and package delivery.
We hope that you found this article helpful. We at PostScan Mail are committed to providing our customers with the best quality of service. Please contact us for more information about our company and how we can help you with your needs.
You Might Also Like:
Images Credit: www.autoblog.com