Do you want to avoid missing essential mail deliveries or standing in long lines at your local post office? There are now alternatives to traditional postal services, such as virtual mailbox companies like PostScan Mail. But how does it compare to USPS PO Boxes? In this blog post, we'll go ahead and compare the two leading solutions and help you figure out which fits your needs best. If you're a small business owner or frequently travel, you can just read on to figure out which option is right for you.
We'll answer all your questions here and even more! So dive in. Let's start!
What is a PO Box?
A post office box, commonly abbreviated as a P.O. box or postal box, is a secure, uniquely addressable lockable box located on the premises of a post office station. A PO Box is an ideal way to receive mail and packages to avoid your address being known publicly or not having access to a physical address. It also offers more security than traditional mailboxes as it is kept in a secure location at the post office. When renting a PO Box, you will be given a unique number, the address to which all your mail and packages will be sent. You can then collect your mail from the post office at your convenience.
Why Use a PO Box?
A PO Box offers several benefits to those who choose to use it. It is a secure and private way to receive mail, as it is located on the premises of the Post Office and is lockable. This makes it an ideal choice for people who reside in areas where mail is delivered outside their homes. A PO Box also allows recipients to receive mail faster, as the Post Office hosts it.
Finally, a PO Box can also be used for tax deductions, as some expenses associated with renting a PO Box can be deducted from taxes.
Why Use a Virtual PO Box? Here are 5 Reasons!
Ultimate Security and Privacy
With a virtual mailbox, a professional mailroom staff securely stores and handles your mail. You won't have to worry about unwanted mail or security risks associated with physical mailboxes.
Handles Business Mail Efficiently
Virtual mailboxes empower business owners to receive only the mail that they need. Any unwanted mail can quickly and securely be disposed of, while important documents can be accessed and handled digitally.
Legitimate Commercial Address
Virtual mailboxes provide a more professional business address than a home address. This is especially essential for remote workers, freelancers, and digital nomads.
Unlimited Access
With a virtual mailbox, you have unlimited access to your postal mailboxes. You can look and take action on your mail and essential documents from anywhere, anytime.
Cost-Effective
A virtual mailbox is a cost-effective alternative to traditional mail options, such as renting a PO Box. It also allows for greater flexibility, convenience, and accessibility.
So, whether you are a business owner, a remote worker, or a digital nomad, a virtual mailbox might be the solution you are looking for!
Access & Manage Your Postal Mail
Anywhere Anytime!
Receive mail anywhere, on any device.
We offer 600+ mailing addresses for both personal and business use.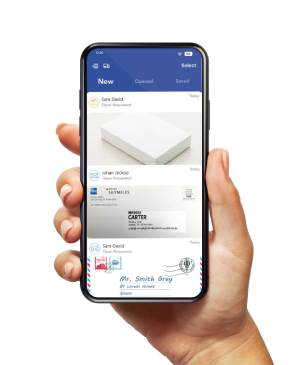 How to Get a PO Box
Getting a PO Box is easy and convenient. To start the process, you can apply for a PO Box in person at a Post Office™ or online at USPS.com®. After the application process is approved, you can select the most convenient post office location and reserve a mailbox by selecting the size that best suits your needs. PostScan Mail offers virtual P.O. Box plans for those who prefer an online P.O. Box. You can inquire about available mailbox sizes at the post office and decide your options.
Please have a look at all the necessary information before you can rent a PO Box, as private and commercial PO Boxes have different requirements and costs.
How Much Does a PO Box Cost?
Renting a PO Box can be surprisingly affordable, with prices ranging from $4.33 to $28.67 per month, depending on the size and location of the box. An extra-small box is usually the most affordable option, while larger boxes are slightly cheaper. Prices also vary depending on the rental period, with 3-month rentals typically being the most cost-effective. It's important to consider all these factors when selecting a PO Box, as this will help you select the right size and price for your needs.
Choosing the Right Size PO Box
Choosing the right size to suit your needs is essential if you want a PO Box. Here are some simple steps to help you make the right choice:
Step 1: Determine your usage – Think about how much mail you receive regularly. Is it just letters, or do you also receive packages? This will help you decide on the right size.
Step 2: Check available sizes – Most post offices offer a range of sizes, from small to large. Please look at the options available and compare them with your needs.
Step 3: Consider future needs – While selecting the right size, consider your needs. Is your mail volume increasing in the future? If so, let's decide on a size up.
Step 4: Budget – PO Boxes come at different prices based on size. Could you check the price difference and decide on a size that fits your budget?
Remember, choosing the right size of the PO Box makes all the difference. A small box may leave you struggling to get all your mail, while a large box may cost more than you require. It's always better to take the time to decide on the right size that fits your needs and budget.
What to Consider When Renting a PO Box
When considering renting a PO Box, there are several important details to remember.
First and foremost, decide the purpose of the PO Box. Does it need to be used for personal or business reasons? This will affect the size and location of the box. If used for business, ensure that it appears professional. Next, determine how long the PO Box needs to be rented for. Three, six, or 12-month terms are most common. Please check the rental costs and decide which option suits the budget.
Privacy and security are other essential factors when renting a PO Box. By using a PO Box, individuals and businesses can protect their privacy by not providing a home address. Furthermore, post office boxes have been around for a long time and are considered reliable and safe.
Finally, individuals should check the competitive areas to see if they can receive two keys for their PO Box without additional cost.
Individuals can rent the right PO Box by considering these important details. Sign up for a PO Box by learning how to reserve, rent, renew, and manage a PO Box online.
Difference Between a USPS PO Box and PostScan Mail Services
| | | |
| --- | --- | --- |
| Comparison Factors | USPS PO Box | PostScan Mail PO Box |
| Size of the PO Box | Various sizes available | Various sizes available |
| Limited mail and package capabilities | Limited to USPS mail and packages | Can receive mail and packages from all carriers |
| Time Availability | Available during USPS business hours | Accessible 24/7, with scanning and forwarding services |
| Saving money | Less expensive than PostScan Mail PO Box | More expensive than USPS PO Box |
| Locations Availability | Available at USPS locations | Available at select locations across the US |
| Convenient features | Basic mail holding and forwarding | Advanced features like mail scanning, package consolidation, and virtual mailbox |
| Cost structure and additional fees | Flat fee based on the size of PO Box | Monthly fee based on features and usage |
| Security | Basic security measures provided by USPS | Advanced security measures like 24/7 monitoring, encryption, and shredding |
| Setup | Easy to set up at the USPS location | Online sign-up process |
| Conditions of the PO Box rental agreement | Standard USPS terms and conditions | Customizable terms and conditions |
| Additional services are offered | Limited additional services are available | Advanced services like check deposit, mail forwarding, and package consolidation |
| Specific regulations or restrictions | USPS regulations must be followed | Customizable regulations and restrictions |
| PO Boxes aren't real street addresses | PO Box address must be used for mail delivery | Real street address available for mail and package delivery |
| PO Boxes can't be used for other business registration needs | Limited use for business registration | Real street address available for business registration |
| Check deposit | Not available | Available with additional service |
Private vs. Commercial PO Boxes
One of the key differences between a Post Office Box (PO Box) and a private mailbox is that the Post Office hosts PO Boxes. In contrast, private mailboxes may be hosted by companies such as UPS or commercial mail-receiving agencies. Although PO Boxes offer privacy, they may detract from a person's professional image. On the other hand, private mailboxes typically provide more convenience and flexibility than a typical PO Box.
For instance, many mail-receiving agencies provide 24-hour access to boxes, while PO Boxes are only available during business hours. Private mailboxes can also be used for tax purposes, as they can provide a physical address when required. Ultimately, both mailboxes have advantages and disadvantages and should be weighed carefully before deciding which suits an individual's needs best.
How to Renew Your PO Box
Renewing your PO Box is now easier than ever with the help of online services provided by the United States Postal Service (USPS). To renew your PO Box online, go to the USPS website and click on the PO Boxes Online application. Once you are on the page, click the "Renew" button. This will direct you to the Manage Your Account page, where you will find an option for renewing your PO Box.
To proceed with the renewal, select the most convenient post office location to renew your PO Box. Then, you will be required to fill out the change of address form, PS Form 3575. After submitting the form, you can make a one-time payment online with your credit or debit card to complete the renewal process.
If you do not have an online PTIN account, you can create one by registering on the IRS website. Also, if you prefer to renew your PO Box through the mail, you can fill out the renewal form along with the payment check and send it by mail to the right address.
Just to remind you, the post office will not forward your PO Box, so renewing it on time to continue receiving your mail is important. With these simple steps, you can easily renew your PO Box and continue enjoying its services.
Managing Your PO Box Online
Managing your PO Box online is a great way to stay on top of your mail and parcels. With an iPostal1 online PO box, you can view and manage your mail with an app or computer from anywhere. You can pay fees easily, reserve mailboxes, choose the right size for your needs, renew your PO Box, and even transfer it if necessary.
Plus, you can receive mail in a PO Box much more flexibly than with a regular street address. You can do all of this conveniently from your own home.
What to Consider Before Getting a PO Box?
There are several things to consider when getting a PO Box. Firstly, you should think about the location and size of the box. You can decide from various post offices, and different sizes of PO Boxes are available depending on your needs. Also, you should consider whether you want a private or commercial PO Box and the cost of renting one. Additionally, you can decide on one that offers online management for added convenience. Lastly, could you consider the taxes and other implications of having a PO Box before making your decision?
How to Transfer Your PO Box
Transferring your PO Box is a simple process with the United States Postal Service (USPS). Here are the steps you need to take to switch your PO Box address:
Could you submit a change of address request with USPS online? Inside the packet is PS Form 3575. Fill out this form and give it in at your local Post Office.

Could you print the USPS Form 1093 application and complete it by hand? This form requires information about the new location of your PO Box and details about yourself and anyone else who can access the box.

You can take your 1093 application and any other required documents to your local Post Office, along with payment for the transfer fee.

Once everything is processed, you will receive a new key for your PO Box, which you can access at its new location!
That's all there is to transfer your PO Box! If you have any questions or need help throughout the process, feel free to contact your local Post Office for help.
How to Receive Mail in a PO Box
Receiving mail in a PO Box can initially seem daunting, but it's quite simple! To get started, you'll need to find a local Post Office, if you don't mind. This can be done by using the search bar on the USPS website to find the most convenient location. Once the location is identified, the individual should reserve a mailbox by selecting a size that meets their needs. It's important to note that USPS is the only postal service that ships to PO boxes.
However, FedEx SmartPost does offer delivery service to PO boxes since the USPS handles the final leg of the journey.
After reserving a PO Box, individuals must provide the USPS with a valid mailing address. All mail addressed to the PO Box can be picked up at the Post Office during regular business hours. Alternatively, individuals can schedule a pickup or arrange for their letter carrier to pick up their mail when making regular deliveries. Hold mail orders are not designed for individuals to pick up their mail at the post office.
A different format must be used when using UPS or FedEx to deliver mail to a PO Box. The individual should provide the physical address of the Post Office location, substituting the word "PO Box" for the actual PO Box number. This will alert the delivery service that the package should be delivered to the PO Box, where it can be picked up by the recipient.
In conclusion, receiving mail at a PO Box is easy and convenient. By following these simple steps, individuals can ensure their mail is delivered safely and securely.
How to use Po Box for tax deductions
A PO Box can offer tax advantages, depending on its use. For example, if your PO Box is used for business-related activities, you can deduct the cost of the box from your taxes. The IRS will only allow a P.O. box address on your tax return if your post office doesn't deliver mail to your home address. Post office box fees will only be deductible if they are part of your business expenses (as a miscellaneous business expense). If your PO Box is used for various purposes, or if you need clarification on which expense category it falls under. It is likely to come under the umbrella of miscellaneous business expenses. So please keep track of all related expenditures and receipts when filing taxes to ensure you get the most out of your PO Box!
Differences Between a PO Box and Street Address!
A key difference between a PO Box and a street address is that the PO Box cannot be used as an official address for your business. A PO box address does not have an apartment or house number. From a financial standpoint, the USPS prefers to deliver mail to a PO Box since it costs them less.
Additionally, PO Boxes can provide more privacy since they are at a secure location, such as a Post Office or Royal Mail's sorting facility. On the other hand, a street address denotes where you reside and can be used as an official business address. So, it is important to consider each mailing address's various benefits and drawbacks before deciding.
A PO Box is a mailing address separate from your home or office address. In contrast, a street address is the physical location of your home or office.

A PO Box is rented from the post office and is ideal for receiving mail and parcels, while a street address denotes where you reside.

USPS prefers to deliver mail to a PO Box as it costs less than a street address.

A PO Box requires a different format when writing an address, as it needs to include the PO Box number and the name of the post office, city, and state/province.

Street addresses typically require more information when writing an address, including the house number, street name, and city and state/province.

A PO Box is often used by those who want to keep their real address private or cannot receive mail at their home or business address.

A street address receives mail through regular postal services, such as USPS or Canada Post, while a PO Box can be used with any mailing service provider.
The Pros and Cons of Using a Digital Mailbox for Personal Use
Pros:
Perfect for Digital Nomads

Easier to Find and Maintain a Permanent Address

Increased Security

Accessibility Anywhere

Ideal for Online Shopping

Professional Image

Privacy Protection
Cons:
Extra Fees

Not Accepted for LLC Formation

Risk of Being Scammed

Limited Support Services
​​​​
How to avoid the 5 biggest mistakes when setting up a Po box
It is a great way to ensure the safety of your mail, but some common mistakes can be made in the process. Here are the five biggest mistakes to avoid when setting up your PO box:
Not checking availability:

Please ensure it is available before signing up for a PO box. The USPS website has a search tool to help you find available PO boxes in your area.

Not providing personal information:

When signing up for a PO box, you must provide your personal information, such as name, address, and contact details. Could you provide the proper information to ensure your application is accepted?

Not selecting an appropriate size for your mail volume:

When selecting the size of your PO box, it's important to consider how much mail you expect to receive regularly. If you select too small of a box, your mail may overflow and be returned to the sender.

Not paying attention to fees:

Different sizes of PO boxes come with different fees. Could you research the fees before signing up so that you do not get any surprises down the road?

Forgetting to cancel the old one:

If you already have an existing PO Box, could you make sure that you remember to cancel it when setting up a new one? This will avoid confusion and ensure that all of your mail is sent to the right address.
How to use Po Box for tax deductions
Using a PO Box for tax deductions can be a great way to keep your home address off your return and still have your mail sent to you. Here is how to do it:
Step 1:

Get a PO Box. Contact your local United States Postal Service (USPS) office and inquire about getting a PO Box. Make sure you get the correct size box for your needs, as well as the necessary documents.

Step 2:

Fill out the address section of your tax return. Place the phrase "P.O. Box," followed by your post office box number, on the street line of the address section on your tax return.

Step 3:

Mail in your tax return using USPS. To ensure that you have proof of mailing and tracking, use USPS to mail in your tax return. This will prove that you mailed it and allow you to track its arrival at the IRS.

Step 4:

Track Your Tax Return. Once you have mailed your tax return, please keep track of its progress online or through the USPS website. This lets you know when the IRS sent and received it to ensure that all your deductions were applied correctly.
Following these steps will help ensure that using a PO Box for tax deductions is done correctly and safely so that you can get all the deductions that are due to you without putting yourself at risk of identity theft or other security breaches.
Why You Might Want to Start Using an Online PO Box
Traditional postal mail can be seen as a hassle in today's digital world. But what if we told you there was a better way?
Here are some reasons why you might want to start using an online PO Box:
Increased Security
Scared of mail theft? With an online PO Box, you won't have to worry about stealing your important mail. It's much more secure than a traditional mailbox on the street or in front of an apartment building.
Fast Delivery
By having a PO Box, you're ensuring your mail is delivered to a specific location. This means the post office can get your mail to you faster than it would by being delivered to a residential or business address.
Convenience
Your home or office address may change, but your PO Box stays the same. This means you won't have to worry about updating your address whenever you move.
Virtual Business Address
If you're a remote worker, freelancer, or digital nomad, having a virtual business address can give your business a professional image. Plus, it allows for better mail management, so you won't have to worry about missing important documents.
Mail and Package Forwarding
With a virtual PO Box, you can easily receive and respond to postal mail items from anywhere in the world. Virtual mailbox services include mail and package forwarding, check deposit and secure shredding.
An online PO Box can provide increased security, convenience, and professionalism. Say hello to traditional mail woes and a more modern way of managing your mail.
Access & Manage Your Postal Mail
Anywhere Anytime!
Receive mail anywhere, on any device.
We offer 600+ mailing addresses for both personal and business use.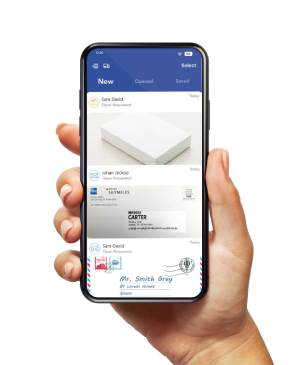 How to Reserve, Rent, and Manage a PO Box online
A PO Box may be the perfect solution if you're looking for a convenient way to manage your mail. Here are some easy steps to help you find, reserve, and pay for a PO Box near you.
You can go to the USPS website to find an available PO Box you'd like. You can search by zip code, city, or state.

Once you've found a location that works for you, please complete the online application form and submit it to the postal service.

After submitting your application, you'll receive two forms that must be filled out at your local post office. Could you bring along two identification forms when picking up your keys?

Pay for your PO Box rental at the post office, and you'll receive your keys on the spot!

To manage your PO Box online, consider signing up with Earth Class Mail for virtual mailboxes that let you access your mail from anywhere in the world with just one login!
Now that you know how to reserve, rent and manage a PO Box online, it's time to start taking advantage of all the benefits of having one! Enjoy easy mail management today!
Upgrade Your Mail Management with a Virtual PO Box and Real Street Address
Upgrading one's mail management can significantly affect how one handles postal mail. With the rise of technology, virtual PO boxes with real street addresses have become a popular solution for those who want to access, view, and manage their postal mail digitally. These virtual PO boxes enable users to choose from a range of real addresses and select services such as forwarding, shredding, or scanning mail. With a virtual PO box, customers can access their mail from any location using an app or on their computers. This eliminates the need to visit the post office physically.
Furthermore, virtual PO boxes can help users maintain their privacy by using an alternative address without revealing their home address. Upgrade your mail management with a virtual PO box and enjoy the convenience, accessibility, and privacy it provides.
Say goodbye to physical clutter – With a virtual mailbox, you can manage your physical mail in a clutter-free, digital way, just like email. It saves you the hassle of physically collecting and sorting through stacks of mail, giving you more time to focus on other tasks.
Get a real street address – A virtual mailbox provides you with a real street address, which can be used for personal and official purposes. Without a PO Box, you can receive packages and mail from different carriers, including USPS, FedEx, and UPS.
Work from anywhere – With virtual mailbox services, and you can access your mail from anywhere using your phone or computer. You can read and manage your mail, forward it to any address, or even have it scanned and sent to your email.
Enjoy a secure and private mailbox – Traditional mailboxes are vulnerable to theft and tampering, but with a virtual mailbox, you can rest assured that your mail is secure and private. You can opt for additional security measures such as shredding, recycling, or forwarding to a trusted recipient.
Upgrade your business image – A virtual mailbox provides a professional image, especially if you are running a home-based business. You can use the real street address on your website, business cards, and other marketing material without revealing your home address.
Save time and money – A virtual mailbox eliminates the need for physical trips to the post office and reduces the cost of maintaining a traditional mailbox. You can also save money on shipping and storage fees, as you can have your mail forwarded to your preferred address or stored digitally.
In conclusion, upgrading your mail management with a virtual PO Box and real street address is a smart and convenient solution that can benefit both individuals and businesses. It provides a secure, hassle-free, and professional way of managing your physical mail.